Thoughts for the Collective
January brings hope & new beginnings. With the previous year behind us, now is the
time to set intentions. This is a period of reflection. Gain awareness on your own
perceived limitations so you can move forward with consistency & stability. Not sure
what you want to invite in? Make some time to reconnect with your authentic truth &
anything in your life that may not support that. With compassion & empathy, hold
space for your own vulnerability. Presence alone heals. Change may be daunting, but
remember, life only feels vital when you're living it in the spirit of play & integrity.
---
Go to Crystals
Seraphinte
As potent as moldavite, this crystal holds
angelic wisdom, accelerates awakenings, &
promotes cellular healing.
Black Obsidian
This stone allows the unseen to be
addressed and released. Deeply protective, it
promotes introspection & transformation.
---
Earthly Healing
Cinnamon Essential Oil:
A natural antioxidant, it supports the immune
system & aids digestion. Cinnamon promotes
emotional warmth in the depths of winter.
Ravensara Essential Oil:
This oil has powerful antiviral & antibacterial
qualities to assist in keeping your home germfree.
It also boosts the mood & has mild anti-anxiety
properties.
---
This Month's Card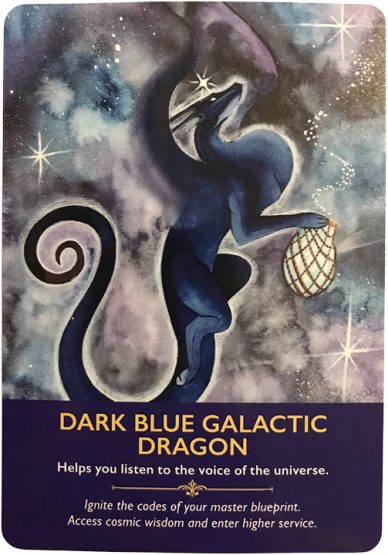 Dark Blue Galactic Dragon
Helps you listen to the voice of the universe.
Ignite the codes of your master blueprint.
Access cosmic wisdom and enter higher service
---
Your soul journey has taken you to the stars and beyond.
The dark blue dragons now invite you to communicate with
the masters of the universe. Your guidance is to listen
deeply & serve the highest good of humanity.
Dragon Oracle Cards by Diana Cooper